in the heart of Bonifacio Global City
At the thick of the new epicenter
Rises the newest residential condominium concept
Here, stylish comfort and urban lifestyle come together
Good design and creature comforts welcome you to home
And finally, style meets sense
True sustainability comes to the fore
This is Arya Residences
Live Well, Live Right.
Live Well. it means enjoying the best that the world has to offer. It means having the gracious lifestyle that you've worked for, with all the comforts and yes, the luxuries.
Live Right. It means doing right by the earth, by the enviroment. It means taking responsibilityfor how you live your life and how it affects the world around you.
It also means living smart. By using resources more efficiently, you enjoy better health and cost savings.
At Arya Residences, you can wake up each day knowing that you are expiriencing a life lived well, and taking advantage of a life lived right.
Going for Gold.
In its constant quest to be prepared for the future, ArthaLand has conceptulized Arya Residences to be a true standard of an enviroemnt-friendly real estate development. This unique, boutique development in the first high-rise residential in the country to be registered under the US Green Building Council's Leadership in Energy and Enviroment Design (LEED) program with the certification goal of GOLD.
The Terrace
Live Well. Head to the exclusive Tarrace for a variety of activities. Taking a dip, watching your kids at the playground, hosting a party indoors or outdoors, or just breathing it all in, Arya Residences amenities are complete for all your lifestyle needs.
Live Right. Breathe in the cleaner air from the greeneries at the elevated Tarrace. Moreover, our landscaping will use indigenous plants which require minimal water and adapt better to the local climate.
Exclusive amenities include:
- Lap Pool
- Adult pool
- Kiddie pool
- Function Rooms
- Indoor Children Play area with adjacent outdoor spill-over
- Landscaped ares
The Plaza
Live Well. just at your doorstep, dining options that have been carefully selected to suit variety of tastes, for those days when you want something special.
Live Right. Buildings have been positioned to direct the breeze into the plaza. with the overhead canopy and strategically positioned light wells, the Plaza gives you utmost comfort as you dine alfresco.
Typical Floor Plan
A Variety of unit layouts and sizes are available to fit the needs of every homeowners, from 1, 2 and 3-bedroom units to Penthouse units. Whether you're making the big move first home, starting a family, or looking for a sensible investment, there's an Arya Residences unit for you.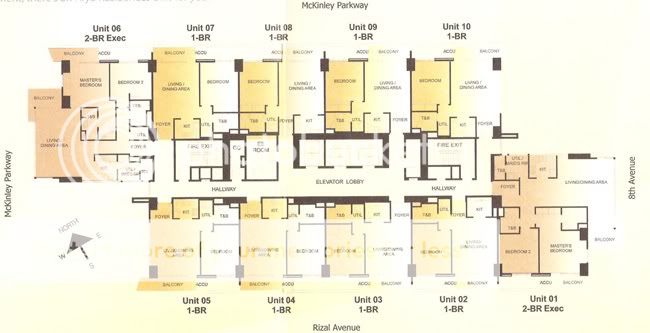 For more info inquire now Arya Residences